Businesses have changed a lot over the past years 30 years. A couple of ads and a smart location would have guaranteed the success of a company, but that's not the case anymore. Consumers have gotten both smarter and lazier—a side effect of having 24/7 access to information.
Companies, especially small businesses, must adapt to the new age, opting for client-outreach solutions to boost their visibility and sales.
Over the past years, digital marketing has become a must for small and medium businesses. Engaging in virtual dialogue is the way to go, and there are plenty of solutions to achieve this goal.
Email marketing, for example, is a great and less-invasive way of engaging a business' target audience. Email automation is particularly good at keeping an audience engaged or informed due to its user-trigger system.
Typically, to make things easier for the small business, these marketing solutions include a wide range of features, like easy-to-access tech specialists and a lot of different email customization options. Some also include analytics to ensure that the message is being delivered and well-received by the target audience. 
AWeber Review
AWeber offers digital marketing solutions—with their main service being automated emails. Automated emails are pre-written messages that are sent at a specific time to a client or potential client base.
Such allows small business owners to manage their audience easier. In addition to this, AWeber solutions also include analytics, allowing the users to adjust their message or change their audience in order to achieve optimal results.
Features
Solution for automated email series; a great way of sending mass updates regarding a product or service to those who are interested
Includes templates that are both desktop and mobile compatible (over 700 templates)
Ability to send single emails for sales, deals or newsletters
Provides analytics regarding the number of people that have accessed the links, the number of sales generated by the service (if applicable), the number of subscribers and unsubs and how many people have opened the message
Has a free unlimited 30-day trial
Pros:
Comes with a wide variety of templates
Ability to set up and integrate different WordPress elements
Great for planning promotions and other events that will undoubtedly increase traffic and business in general
Con:
Doesn't offer much flexibility outside of the automated email services
A Detailed Look
AWeber is an excellent way of setting up different systems that will allow blogs and other types of websites to grow. If users manifest an interest in a product or service that's being advertised on a webpage, then they might sign up for it.
After doing so, they will be part of a list of recipients for the automated email system. The system will then send the messages on the scheduled times, either in one batch or multiple batches.
That is a very good tool for some neat practices that contribute towards growing one's domain. For example, a blogger can offer his or her readers a free book or series of books. By signing up, the email will either send them a message instantly or on a predetermined date.
For small retailers, this is a great method of sending clients billing and shipping information, especially if they work with their own payment processing service.
AWeber comes with an interesting offer. Along with automated email solutions, they provide a range of utility-oriented services that improve and solidify the quality of their primary service. All of the plans come with the same perks which include:
Daily access to customer support
An unlimited number of emails
Image hosting
Access to over 6,000 stock photos
Access to over 700 templates
Educational materials like videos, blog posts, and guides regarding digital marketing techniques
Can integrate with blogs, payment services and more
Allows the user to migrate from a different service, importing their old subscriber list
To put it plainly, it's a very good deal since the plans start relatively low in price. For those who want to avail plans anywhere higher than the maximum, AWeber's representatives can be contacted to establish a custom, enterprise-level rate.
Comparison
AWeber is truly great, but that is easy to say without taking a look at what the digital marketing solutions market looks. To better paint the picture, so to speak, it's important to take a look at a similar service.
QuickMail is a similarly-priced email automation service, but there are some key differences between the two.
For starters, QuickMail charges more for the basic subscriber plan offered by AWeber. While price alone shouldn't be a deal-breaker, QuickMail offers the plan in both basic and "Pro" versions—the basic one being severely limited in features.
It's becoming clear that AWeber has more consumer-friendly practices in this regard, as they offer the same features across the board for all of its pricing options.
Lastly, QuickMail offers a basic trial version, which is pretty much a watered-down version of their premium service. Interested users can try out the service but won't get the full extent of the experience without digging into their pockets.
On this level, AWeber pulls ahead once again with their fully-featured, 30-day, unlimited, free trial (16 days more than what QuickMail is offering), which is plenty of time for the user to get accustomed to how the service works and how to maximize results.
Verdict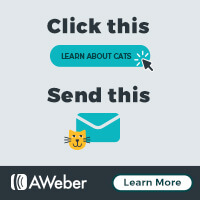 Seeing as most of the services out there are driven by increasing their own profits, AWeber seems to be a breath of fresh air or an oasis. The level of transparency that is present in their offers is unparalleled on the market, and their customer support services are stellar. In addition to that, many businesses will make good use of their solutions.
They offer a wide variety of services, including image hosting, stock photos, software and app integration, analytics and more. Further, every service will make the life of the users easier.
That is because most of their needs are covered by a team of professionals that is backed up by a hefty amount of educational and productivity-oriented resources.