If you are looking to start an online business, Solo Build It and Wealthy Affiliate are among the most popular choices. These two platforms have launched thousands of successful internet solopreneurs.  If you are looking at these two options then you are in the right space.I am one of the few people who have used both the platforms to launch successful online businesses.
In this article, I will try and give my insight into the debate between these two services will serve you best.
Solo Build It vs Wealthy Affiliate
Not everyone knows what Solo Build It and Wealthy Affiliate are. In a nutshell, these are online earning platforms that make it easier for you to rake in some cash. They are, however, a bit different in their approach in monetizing.
Solo Build It is a website block builder where you can design your own site. The block builder is unique to SBI and is extremely easy to use if you are a newbie. Through the tools that are available in the platform, you no longer have to study complicated programming and coding processes. Everything is already in the toolset. Access to Solo Build It also provides access to its extensive online library, which improves your chances of driving money to your bank account.
Wealthy Affiliate, on the other hand, also helps you launch your own website through WordPress website builder which is very popular and universally known. WordPress platform is a very diverse platform where many developers contribute in terms of plugins and website themes that can enhance features on your website. From its name, you can already conclude that it runs on an affiliate business model. It has been described by many of its users as a combination of a site builder, community and internet marketing forum.
If you wish to use virtual assistants to help you grow your business then it is better to go for Wealthy Affiliate because WordPress is universally known and no training will be required. With Site Build It you will require to train your VA into using the block builder technology. If you are a hands on person and will like to do everything on your own then SBI is a better choice because the block builder system is very easy to use and produces results.
Of late SBI has also launched its own WordPress builder module to take advantage of this platform. I am not sure how this works because when I was with Sitesell only the block builder was available.
Payment Arrangement
Wealthy Affiliate has a free lifetime starter membership, which means you do not have to shell out anything to try out the service. Once you are ready to go premium, you can then see if the Premium membership, worth $359 a year is worth your cash. Is Wealthy Affiliate worth it? Definitely!
Solo Build It requires an upfront payment. Membership costs $300 per year, which can be broken down to monthly payments. They do offer a 90-day money back guarantee, which is a good thing for users to check if they like the platform and training.
Although Solo Build It is marginally cheaper than Wealthy Affiliate there is one very big difference you should bear in mind before signing up for either of the two programs. With SBI you can launch only one website. If you wish to start a second business then you will need to pay yearly membership once again. With WA you can launch multiple businesses (up to 50 websites) through a single yearly or monthly subscription.
This is one of the main reasons I switched to Wealthy Affiliate because I have several websites and need to pay only one subscription every year so it works out very economical.   If you wish to focus on only one business then it is better for you to take the SBI option.
Solo Build It Reviews
Based on several Solo Build it reviews, you can see how helpful this platform is in getting you to succeed as an entrepreneur online. Think of it as an MBA course that provides you with what you need to start, build and grow your venture.
Once you subscribe to Solo Build It, you will be given an Action Guide. This is not just a simple instruction manual that you have to read. It is made up of ten steps that will assist you in maximizing the platform in starting your business.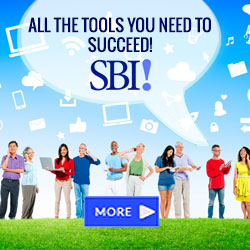 The great thing about this is that you can work on your own pace so you do not have to feel too much pressure in learning the ropes.
This Action Guide will be your most powerful tool in creating your website. There are hundreds of templates that you can choose from for the design. There are even guides on how to best write the text content in the website.
Apart from the Action Guide, another cool feature of Solo Build It is the online library and eBooks that you can access on their platforms. There are forums where you can interact and ask other users from other parts of the world. The technical support has also been lauded.
The basic process in earning through Solo Built can be summarized as CTPM (Content, Traffic, Presell, Monetize). You have to offer useful and insightful content to potential audiences and then traffic them through several digital marketing strategies. Once they are in your website, you have to presell or deliver much more than what they expected. This way, they will be hooked and will be more likely to purchase future products and services.
If there is one reason to try out Solo Build It, it is the fact that a big majority of the popular websites built on the platform can be found in the top 0.5 most visited websites in the world.
However, the website navigation of SBI can use some work. It can be difficult to navigate from one point to the page you want to go to. The training that is incorporated in the platform may also use jargon that may not be familiar to beginners.
Wealthy Affiliate Reviews
One of the most infamous Wealthy Affiliate reviews that have been published is that of Ken Envoy. If you do not know who Ken Envoy is, he is actually the founder of Solo Build It and its predecessors. As you may have already guessed, he is not exactly the biggest fan of his own service's direct competitor.
While Envoy's review had some valid points, it is clear that he is biased against Wealthy Affiliate that he is unable to make an objective comparison. You must discount this review if you come across whilst doing your due diligence on the internet.
Wealthy Affiliate markets itself as perfect not just for advanced users of blogs and websites but also for beginners. It has a Wealthy Affiliate university where you can undergo through task-based courses that take you one step closer to your dream website.
Wealthy Affiliate takes pride in the fact that it is a community, where like-minded members will be able to communicate and learn from each other. It has a quite advanced support system that is composed of forums, classrooms and chat messaging features.
It is perfect for anyone who wants to earn some money on the side. If you are a stay at home mother, a recently laid off worker, a full time office employee who wants more income and blogging beginners, this is the perfect platform for you.
Just like any good thing, however, WA has its cons as well. For one, there are a lot of things that you have to learn that a beginner will find it overwhelming. The design of the platform also can use some tweaking.
Apart from that, Wealthy Affiliate is a dream. The fact that users have reached 10,000 in number is proof that it works!
The Verdict between Wealthy Affiliate and Solo Build It
Both Wealthy Affiliate and Solo Build It have their own share of success stories in their respective platforms. Since this is the case, it really boils down to personal preference. While the strongest selling point of the former is the training in their Wealthy Affiliate University, no one can contest that Solo Build It can earn you bucks just as well.
Site Build It is more suited for a single online business owner who is a hand down person and who wishes to do everything on his own. The block builder is very user friendly and requires much lesser training for a newbie with little or no technical skill.
I use Wealthy Affiliate program because of its flexibility to use virtual assistants that require no training and ability to run multiple online businesses with one single payment. I like to leverage my time so that I can focus on business aspects, writing and thinking and leave the technical stuff to the virtual assistants who are more capable than me.
Both programs are outstanding. Your decision should be based on your personal choice and circumstance. If you sign up for any of the two programs through my affiliate links ( I will earn a commission at no cost to you) then I will personally help you with business aspects and advise that will help you grow your business and succeed.