If you're wondering about how to install a WordPress theme, there is a big chance that you've just started using this platform in the past few years. Regardless of your experience, you might be aware of the fact that you can get a wide range of free themes on WordPress along with some high-quality one which will charge you a decent amount of money.
As a beginner, it might be difficult to select one theme which is viable for the content of your website. As a result, everybody looks to try out a number of different themes before deciding which one can serve his or her needs in an imperious manner.
However, when there is no shortage of themes which are available for absolutely nothing on WordPress, you do require a certain degree of knowledge in order to install a theme for the very first time.
So, how to install a WordPress theme without professional help? In order to answer this question, we've curated a guide for all those WordPress users who're looking for nothing but top-quality information.
In this guide, we'll provide you with step-by-step instructions for installing a WordPress theme. After reading this guide, you'll not only be in a comfortable position to install a theme for the very first time but, at the same time, you can also use this method to install any other theme in the future.
Before we move on to the easy-to-follow steps for installing a WordPress theme, let's first have a look at what actually is a theme and how important it can be in terms of the success of your website.
What is a WordPress Theme?
When it comes to the WordPress theme, it basically a type of pre-made design created by designers and developers for all those users who don't have the basic know-how of programming. You can think of it as the layout of your webpage which controls the outer look of your webpage.
There is a wide range of themes which you can download from the WordPress theme directory. Depending on your personal website, it is imperative that you should select a theme which is specifically designed for that type of web page. For example, if your blog is about coffee, you should always prefer themes which can impress most coffee aficionados.
Remember, a WordPress theme has got nothing to do with the content on your website. You can use any theme, and your content will remain the same. The only thing which will be changed by installing a new theme is the outer look of your website. So if you want to impress your potential viewers, you should always select a new theme with utmost care.
Types of WordPress Themes
There are three types of themes which are normally available in the WordPress theme directory. It consists of the premium themes, free themes and finally, the custom WordPress themes.
Premium WordPress Theme
The premium WordPress themes are mostly developed by professional companies for those who can afford to spend some fortune in return for a high-quality WordPress theme. You might have to pay a decent amount of money for purchasing a premium theme, but when it comes fully SEO-optimized, along with impeccable customer support, it gives you good value for your money.
Free WordPress Theme
As evident from the name, free WordPress themes cost you absolutely nothing as you can easily install them from the themes directory. However, just like any other thing which comes for free, you have to show extra care before choosing one. The reason behind it is that when some of the free themes are nothing short of top quality, there are various others which are no more than a waste of time.
Custom WordPress Theme
The custom WordPress themes are perfect for those who want to make no compromises on their website's look. As the name suggests, this type of theme allows you to choose everything from the position of the sidebars to the design of menu bars. However, one thing which you have to keep in mind, before choosing any of the custom themes, is that it normally comes at a higher price as compared to the other two types.
How to Install a WordPress Theme
Step One
First of all, open your WordPress website and use your login details to access your admin area. Click on the appearances menu which should be listed in the middle of your dashboard before clicking on the themes from the submenu.
Step Two
Once you've arrived at the themes page, you'll see a blue 'add new' button. Click on it, and it will take you to a new screen where you have to decide the kind of WordPress theme you want to install. Depending on your personal preference, you can choose from either the featured WordPress themes, popular themes, latest themes or, finally, the customizable themes.
Consider, for example, that you want to install a business style WordPress theme. Type it in the search menu, and you'll be provided with tons of free as well as paid WordPress themes.
Step Three
Once you've selected a particular theme, bring your cursor on top of it, and it will reveal an install button. If you want to test it out before installing, you can also click on the preview button which will be present on one side of the install button.
Step Four
Click on the blue 'install' button once you're satisfied with the theme, and your new theme will be installed in a matter of few minutes. Afterward, click, with the help of the cursor, on the 'activate' button and your new theme is up and running.
Useful Tip
There is no better way than to build your WordPress site by yourself. Aside from the fact that building your own website will save you money, it will also allow you to make all the necessary changes as per the content on your webpage.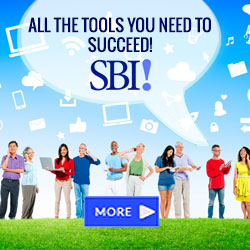 However, some people often find it tough to build a new website on their own, and they often look towards premade websites being developed by professionals. If you're looking for experts who can help you create your own website, there are businesses, such as Solo Build It or SBI! For WordPress that are ready to help you put up a stunning design.
SBI! is basically a site building platform which does much more than building a mere website. Unlike other site builders, this one provides you with in-depth research materials in order to assist you in finding a suitable niche for your new website.
This material eventually helps you in terms of finding a topic on a market isn't quite saturated at the time. You can also use this material to determine how profitable your desired niche can be or if the online market is already quite saturated with that topic, you can also use this knowledge to determine a profitable niche.
Afterward, you can purchase a new domain name from SBI! before building your own website. This platform also provides valuable tips for monetizing your content which is of great value for all those of you who's still relatively new to WordPress. So starting from building a new site to deciding a topic, SBI gives you with every bit of information which you might require for running a successful website.
Conclusion
Installing a new WordPress theme is quite easy as everyone can do it in a matter of few seconds. All you have to do is to decide the kind of theme—based on your blog's content—which you want to download, and the rest is pretty straightforward.
So, if you want to install a new WordPress theme on your own, there aren't many easier methods on the internet than the one mentioned above. You just have to follow a few steps and bingo! Everybody can use this method to install a premium, a free or a custom WordPress theme.