If you are an aspiring entrepreneur who wants to start an online business, the main thing you have to focus on is building your website. However, there is a long list of other things that you also need to work on. The internet has a lot of platforms that you can utilize to do this, among them is Solo Build It. So, what is Solo Build It and how does it work?
Found yourself scouring the internet for a platform that can help you make good money online? If you answered yes, there is a big chance that you have heard of Solo Build It. This membership website is among the market leaders when it comes to helping solo entrepreneurs find success on the internet.
What is Solo Build It?
Way back 2002 when it was first launched, Solo Build It was known as Site Build It. It is an online website builder that offers everything a solo entrepreneur needs in order to have a successful online business.
Solo Build It, however, offers more than just customizable templates that you can use to create your website. It also provides its members with effective tools as well as other training materials that can contribute to their knowledge in running a real business generating honest and good money.
Nowhere on the internet will you come across a website that offers what Solo Build It does. Anybody willing to work hard enough to build their own profitable online business can benefit from being a member of Solo Build It. For 15 years, it has helped work-at-home moms and dads, students, retirees, and local businesses from around the world find success online.
Solo Build It was the brain-child of Ken Evoy, a Canadian businessman who used his knowledge in internet marketing to guide small businesses and solo entrepreneurs to succeed online. If you wonder what makes Solo Build It stand out from other similar platforms, then read on.
How Does Solo Build It Works?
Solo Build It recommends a formula that has been tested and proven effective by hundreds of successful solo entrepreneurs all over the world. By following this formula, both newbies and experienced businessmen are guaranteed to have a strong ground to build their online business on.
Content
For any online business to find success, it has to have a website that contains high-quality, engaging content. This is achieved through the use of tools that research keywords, which show the latest trends on any given topic or niche.
Solo Build It offers more than just a means to create an aesthetically pleasing website, it also guides and teaches its members how to make content that specifically targets their intended audience. With Solo Build It, you are provided with the tools needed to make it happen.
Traffic
After creating a website that is packed with quality content, the next step that you would have to focus on is generating traffic. Solo Build It provides professional training programs on website management and social media marketing to introduce your business to a wider audience.
Pre-Sale
In order to build confidence among your readers as well as earn their complete trust, your website has to provide informative content that surpasses the audience's expectations. Through the training and tools that Solo Build It offers, you will learn how to write detailed content on relevant topics.
Monetize
The last step in building a successful online business is to find ways to aid your website to earn a passive income. Solo Build It provides its members with many monetizing options. These processes convert website traffic into profit.
Basically, the CTPM formula guides every Solo Build It member in creating quality content while targeting keywords that generate traffic to the website. Once leads are collected, the website can then be used for profit through the use of various monetizing options.
What Can I Expect from Solo Build It?
Step-by-Step Online Business-Building Process
Solo Build It offers a simple yet powerful Action Guide that is available in video, mobile, and written form. It is a tested and proven step-by-step guide that breaks down the complex process of building an e-business into simple and doable steps.
Effective Online Tools
As was mentioned earlier, Solo Build It is more than just a website builder. It has everything a solo entrepreneur needs to create a real business that delivers profit. Members can rely on Solo Build it to be by their side every step of the way from brainstorming and finding your niche to keyword research into monetization solutions.
Up-to-Date Software
Backed by over 15 years of hands-on experience in the internet marketing industry, Solo Build It knows what works and what does not. By becoming a member, you will also be privy to hundreds of e-business sources that are proven effective and profitable.
Software updates, as well as additions, are free-of-charge and automatic, which means that you won't have to waste time and worry about not being up-to-date. All major developments—from steady improvements to quantum leaps—can all be enjoyed by every member without having to worry about the technical stuff.
Free 24/7 Support and Guidance
Whatever time zone you are in, there is always a SiteSell Support expert who is ready to help you out. Solo Build It offers 24/7 support to all of their members. In addition to that, members can also ask for guidance from like-minded solo entrepreneurs in the Solo Build It Forums.
Final Words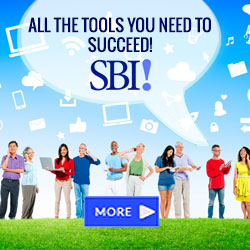 So, what is Solo Build It? To put simply, Solo Build It is everything a solo entrepreneur wanting to start an e-business needs to be successful online. It is an all-inclusive package containing a step-by-step guide to business-building combined with many online tools to earn good profit from website traffic.
Solo Build It is a community of open-minded individuals who are passionate about many different things. These people are committed to helping each other grow and find success through the creation and management of money-making online businesses.
SBI has helped thousands of ordinary people build successful online businesses. Check out the case studies and proof.
If you are among the many who dream of becoming a successful solo entrepreneur, start your journey today when you visit the Solo Build It website here. Good luck!