Over the last decade, we've witnessed the continued evolution of e-commerce. Back then, we used to pay cash for purchases whereas today, we pay using our credit cards. Not everyone thought of earning online before, but now, almost everyone desires to make money over the internet.
This brings us to SiteSell and Wealthy Affiliate, two programs that enable people to do just that. In this article, we'll compare SiteSell vs. Wealthy Affiliate to find out which does it better.
The way things are sold or bought changed by leaps and bounds over the last decade. Online shopping or E-commerce is the driving force behind this shifting culture. Forrester Inc, a Market Research company, estimated US E-Retail sales alone to be at $327B last year. That is over $127B over 2011's figures with sales of $202B. Having a share of that enormous pie, even a tiny part of that number, is what lures most to online money-making programs.
SiteSell and Wealthy Affiliate are two of the most popular affiliate programs online that allow people to earn extra money by creating a passive income stream. So what exactly is an affiliate marketing program? By simple definition, it is an incentive- or performance-based reward system provided by business owners to affiliates for marketing their products and services. Each sale generated through the links provided by the merchant earns you a commission.
Affiliate Marketing Methodologies
Affiliate marketing programs use different methods. Over the years, the use of the internet evolved, and the functions became much more dynamic. Internet marketing now, unlike before, does not solely rely on lead generation alone. Affiliate marketing programs harness other technologies like the following:
Search Engine Optimization: SEO is the methodology of manipulating or controlling the way search results will drive traffic to your website. SEO uses carefully selected words to describe your webpage or article to raise its Google search ranking. This is also termed as organic search.
Pay-Per-Click: Traffic is driven to your website every time someone clicks on an advertisement. It is a paid method rather than being organic or natural.
E-mail Marketing: This is one of the oldest forms of digital advertising to let the marketer's presence be known. Commercial information is sent to a group of random or specific people depending on the type of campaign. E-mail marketing campaigns, unfortunately, don't often work as these types of emails are more likely to be ignored and discarded as junk mail.
Content Marketing: Affiliate Marketing programs make use of this method to carefully formulate words and ideas that are relevant to your website. It is a strategic placement of information on your site to engage the audience and consequently, deliver profitable results.
Video Marketing: Video presentations usually engage viewers more effectively than written information. The efficient use of video marketing results in 'viral videos' that are spread through word-of-mouth or promotion via social media. Affiliate programs make use of this type of marketing to generate more sales and engage customers.
Blogs: Blogs are similar to content marketing. Successful bloggers create a following by merely journaling their specific experience in using a product or service. Many affiliates use blogs to link a merchant's products or services to generate sales for the vendor and earn the blogger a commission in the process.
SiteSell vs Wealthy Affiliate: Advantages And Disadvantages
Both companies provide exceptional affiliate programs. SiteSell or SBI has been in the industry for the past 20 years although it was only in 1999 when they released the first SiteSell Affiliate program, a revenue-sharing program that pays a portion to resellers or affiliates. Meanwhile, Wealthy Affiliate has been in the industry for 10 years.
Both programs offer excellent historical proofs and testimonies from members of their programs, and both provide outstanding training modules on a wide range of topics ranging from content writing and keyword research to proper use of SEO and video marketing. Sitesell, however, doesn't offer free membership, unlike Wealthy Affiliate which offers a trial one for seven days.
Upon joining SiteSell, the user is given an option of choosing a monthly or yearly membership payable by credit card, but this comes with a 90-day risk-free trial with access to all features and training. Wealthy Affiliate allows members to join for free but only offers users limited access to features and just for a duration of seven days. Even so, Wealthy Affiliate's free trial allows users to get a feel of the how the program works without paying upfront.
Wealthy Affiliate also has a much more dedicated community compared to SiteSell. Members of Wealthy Affiliate are much more active online, and users can easily connect with other fellow members for mentorship or guidance.
Wealthy Affiliate's website is also much more user-friendly than Sitesell's. The layout, graphics, and content are carefully thought out, and web navigation is kept simple.  SiteSell meanwhile has too much varied information posted on its home page which may be confusing for new users of the site.
Sitesell vs Wealthy Affiliate: Our Verdict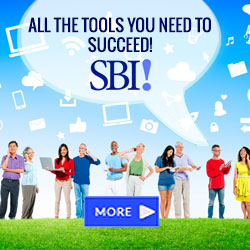 While Sitesell and Wealthy Affiliate provide almost identical claims, products, and services, we believe Wealthy Affiliate offers a far superior system of earning. In this type of business, guidance from other people who have been in the business for a more extended period is absolutely essential. Since Wealthy Affiliate has a more committed community of fellow affiliates, your success is that much more assured.